A concierge-style agency dedicated to taking your cannabis business from local to global
Noble House Media Group has decades of experience helping companies in almost every industry acquire customers more effectively and efficiently than ever before. Now, we're applying those talents to the burgeoning cannabis industry.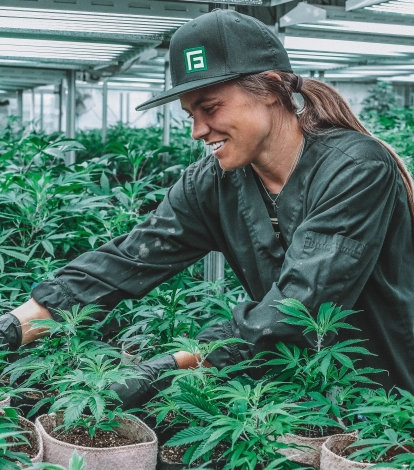 Start with a design-thinking workshop
Comprehensive meetings to help your cannabis company establish branding guidelines, create strategies, plan assets, and more.
In our workshops, we will help you:
Review your current branding and assets (or create new ones from scratch!)
Identify and/or refine brand awareness, voice, and tone
Identify and select brands to leverage in your digital marketing campaigns
Create marketing compliance guidelines
Identify key performance indicators (KPIs) for the cannabis industry
Create customer personas to identify cannabis market segments
What we do to help you sell cannabis
We offer a variety of services focused on creating sustainable customer acquisition strategies in the cannabis industry.
Whether you're building an entire digital marketing plan or you're just looking to boost your existing marketing material, we have you covered.
All customer journeys can be described as funnels, with customer acquisition at the top (the widest part) and the completion of the sale at the bottom (the narrowest part). The great thing about Noble House is that we cover every piece of the funnel, starting at the top with brand awareness and going all the way down to ecommerce functionality and even customer support.
Original Cannabis Content
In your crowded industry, creative, original marketing material is the key to selling cannabis. Our team of seasoned graphic designers, animators, copywriters, video producers, photographers, and media specialists will conceptualize and deliver highly impactful, on-brand, custom curated content for each sectional demographic you choose to target. We'll work with you at every step of the way and in every part of the funnel to make sure you're providing the best marketing content in the industry.
SEO for Cannabis Companies
SEO (search engine optimization) is one of the cornerstones of any marketing campaigns — especially in this industry. Noble House covers every part of the SEO campaign, which can be broken down into three basic pillars:
Blog authorship targeted at your specific target audience
Keyword research
Image optimization
Structured data
And much, much more
Competitor SEO link analysis
Content promotion
Industry vertical networking
Backlinking from trusted domains
And much, much more
Decreasing the load times of the website (desktop and mobile)
Vial optimization across devices and platforms
Conversion rate optimization to leverage traffic and increase the quality of leads
Removal of toxic backlinks
Elimination of duplicate content
XML sitemap creation & submission
Etc.
SEO only covers the organic side of search engines. To have a comprehensive marketing strategy, you'll also need to invest in paid search. Noble House offers comprehensive pay-per-click advertising for cannabis companies. We offer best-in-class keyword research capabilities to place your cannabis company's website on the front page of every relevant search engine results page (SERP). From there, we manage your ads budget to make sure you're getting the absolute best conversion possible.
The market for cannabis is often young and active on social media. This makes it a perfect opportunity for influencer marketing. Noble House will help you secure deals with the industry's top influencers to get your products in the hands of all their followers.
ECM is crucial in the U.S. cannabis industry because many states have only recently legalized or decriminalized the substance. This means that as a cannabis marketer, you have lots of market education to do. Our marketing agency can help you build that trust between brand and consumer.
PR for cannabis companies can be tricky — and that's why you should only trust the brand awareness pros. Our industry-leading PR arm ensures curated placement across prominent local and national publications to bolster your cannabis company's awareness and traffic on all channels. Guerrilla marketing campaigns are also extremely popular in the cannabis business. Noble House can create sky banners, branded tour buses, pop-up locations, local events, and much more to give any cannabis brand a leg up in local competition. We can even put your cannabis selling brand in the metaverse, where customers can find it in the marketplace of the future.
An organic social media strategy is crucial in the increasingly crowded cannabis market. We'll help you build brand awareness to stand out to your target audience with cutting-edge social media strategies.
Direct mail campaigns may have been around for a long time, but that's because mail is one of the most effective strategies available. Noble House will take your campaign from content and design all the way to your target audience's mailboxes.
You may not think of email campaigns as effective for the cannabis space, but Noble House can help your brand build a target audience of consumers who want to hear about your products. With advanced analytics, data tracking, automation, and content creation, we can use email to grow your business.
We continue to follow interested customers through our tracking pixel. These marketing materials are online advertisements that continue to follow proven prospects — especially the ones who have already visited your site. This type of retargeting has exceptional ROI at a low cost per click in the cannabis market.
Many brands rely on local sales or even pop-up locations to sell cannabis. With Noble House's geotargeting abilities, you can find eager customers near your business in real-time.
Believe it or not, podcast, radio, and online advertising is one of the most effective ways to sell cannabis. We have developed relationships with local radio stations and podcasters across the country to get your products on their shows. And it doesn't stop there! We can also cover music streaming ads, radio interviews, spec ads (in English and Spanish), and more.
Want your cannabis business featured in local publications, business journals, cannabis bulletins, billboards, taxis, specialty magazines, and more? A marketing agency like Noble House can build your brand awareness in every print medium to get your name out faster than you can imagine.
Selling cannabis can be a challenge, but when you have a video production team like the one at Noble House, it becomes a lot easier. Our team will help you produce professional level video content perfect for marketing on TikTok, Spotlight, YouTube, and any other social network.
Let's start your project.
We have almost tripled all numbers because of the Noble House team's hard work. Switching companies is always difficult, but Peter and Gregg made it easy. They always explained the process in terms that we could grasp.
Rachel Foster
The Chamber couldn't be more pleased with the talent, service and dedication given by Team Noble House! We are a small non-profit but Noble House has treated us like a fortune 500 company. Their multi-talented, multi-service company has helped us improve and optimize our website and marketing approach including social media and branding. They truly care about our community and improving the quality of collaboration for everyone. They continually go above and beyond the call of duty and again, we are grateful for their depth of knowledge and talent, responsiveness and expertise!! I highly recommend Noble House Media!!
Kesti Aysseh
Peter and his team were instrumental in getting our website updated and customized. They also helped us get our email marketing program established. They are very responsive and we enjoy working with the entire group.
Pamela Kushner
Both of my practices have increased the patient base since using Noble House. I like the fact that I have access to live analytics rather than made up reports that we used to get from previous companies. Highly recommended!
Dr. Peter Maro
Before I used Noble House, a large marketing company overcharged me for a bad website. Noble House is different. They always respond to my calls and emails. They built me a beautiful site and I couldn't be happier!
Megan Rose
Loved working with them. Excellent customer service, quick response time to any and all questions, and an incredible body of work. I work with them and I'd refer them to anyone in a heartbeat.
Laura St. John